Blooming White Tea

Hand tied flowering teas are often made with the emphasis on how the tea looks with little concern for tea quality. We selected exceptional healthy white tea as a base with delicate jasmine flowers and/or globe amaranth flowers in the middle that add their floral scent and light taste.
Each bundle open itself gracefully in water to let you enjoy a beautiful visually experience while you drink.
This special selected blooming white tea makes a great cup for a healthy everday drinking as well as a great gift to your friends or families due to it's unique and stunning looks.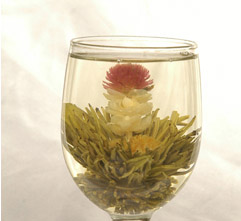 Fall in love (Qingtouyihe).


Type : Handmade artistic blooming tea.
Ingredients : White silver needle tea, Calendula, amaranth, jasmine.
Origin : Fujian Province, China.
Year : 2012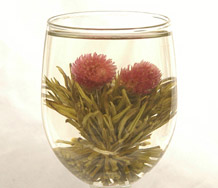 Double bliss

Type : Handmade artistic blooming tea.
Ingredients : White silver needle tea, amaranth.
Origin : Fujian Province , China
Year : 2012